The Pokémon Company is donating $200,000 to support Ukraine
The Pokémon Legends publisher joins the growing number of game companies to support Ukraine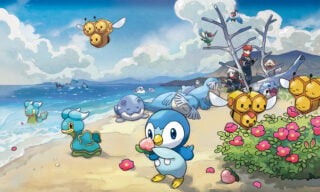 The Pokémon Company International has announced that it will donate $200,000 to provide humanitarian support in Ukraine.
The company tweeted a statement reading: "The growing crisis in Ukraine and Easter Europe, which continues to cause the displacement of families and threaten the safety of children, is heartbreaking.
"The Pokémon Company International is making an immediate donation of $200,000 USD to our partners at GlobalGiving to provide humanitarian relief.
"The nonprofit will efficiently direct the funds to community-led organizations supporting families and children affected by the crisis."
The Pokémon Company joins the growing list of games companies publicly supporting Ukraine and condemning Russia's invasion.
Earlier this week, Ukraine's Deputy Prime Minister called on Xbox and PlayStation to temporarily end support in the Russian and Belarusian markets.
In an open letter published on Twitter, Mykhailo Fedorov called on the platform holders to "block all Russian and Belorussian accounts, temporarily stop the participation of Russian and Belorussian teams and gamers in all international esports events".
In a message addressed to Xbox and PlayStation, the Deputy PM wrote: "To all game development companies and esports platforms, the Russian Federation has carried out a deceptive and outrageous military attack on my country! Just imagine, in 2022, cruise missiles attack residential neighbourhoods, kindergartens and hospitals in the heart of Europe."
The developer of anti-war game This War of Mine announced last week that it would donate some profits made from the game to the Ukrainian Red Cross.
And Embracer Group, CD Projekt Red and Ubisoft have published messages of support for Ukraine, with the former two committing to donating toward humanitarian aid efforts.
Meanwhile, EA has announced that it is removing all Russian teams from FIFA 22, and all Russian and Belarusian teams from NHL 22.