The Pokémon Company has acquired its trading card game manufacturer
The company now owns Millennium Print Group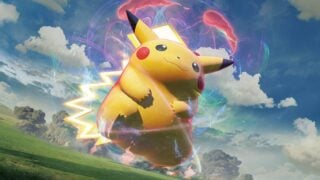 The Pokémon Company has agreed to acquire the firm that prints its trading card game (TCG), Millennium Print Group, for an undisclosed sum.
In a press release issued on Tuesday, the company said the acquisition was intended to increase the scale of Millennium Print Group's operations.
"With this acquisition, The Pokémon Company International aims to further develop Millennium Print Group's capabilities, infrastructure, and scale to become a premier printer of trading cards, serving the broader industry," it said.
Despite the acquisition, Millennium Print Group will continue to operate as a separate "autonomous" company, but will gain "both investment and industry expertise from The Pokémon Company International".
Pokemon Scarlet and Violet Guides:
Pokemon Scarlet and Violet walkthrough, tips, and Pokemon locations | Roaring Moon location | Iron Valiant location | Shiny sandwich recipes | Pokemon Scarlet and Violet Legendaries | How to find Shiny Pokemon in Scarlet and Violet
The North Carolina based Millennium Print Group has been printing TCG cards for Pokémon since 2015, and following the acquisition will likely continue to do so for the foreseeable future.
In a statement, The Pokémon Company president Kenji Okubo said: "The talented team at Millennium Print Group has been an important partner to The Pokémon Company International for many years, helping us bring the Pokémon Trading Card Game to our fans with the quality they expect.
"By joining forces in a more meaningful way, our goal is to enhance the ways our organizations work together and continue to bring the highest quality Pokémon TCG products to market.
"Simultaneously, we aim to develop Millennium into an even better, bigger, state-of-the-art version of their already exceptional organization, benefitting not just Pokémon, but all of their customers."
Millennium Print Group CEO Terry Pegram added: "This exciting new chapter for Millennium Print Group has tremendous beneficial impact for both our business and its employees. We look forward to continuing to support our team members and customers while growing Millennium to be a premier printer for trading cards in the world."
Pokémon cards continue to be popular globally, and experienced something of a surge in popularity last year following a number of high-profile stories involving influencers buying rare cards for exceptionally high prices.
The stories led to current TGC sets becoming hot items, with some US stores such as Target temporarily removing them from sale for safety reasons due to "inappropriate customer behaviour".
Related Products
Other Products
Some external links on this page are affiliate links, if you click on our affiliate links and make a purchase we might receive a commission.