The Pokémon Center London pop-up store is now taking reservations
The store will only be open for five days, but visitors can book a slot now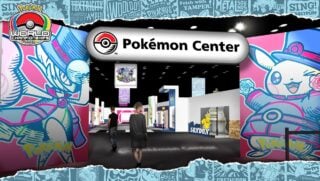 Pokémon fans hoping to visit the Pokémon Center pop-up store in London can now reserve a time slot to attend.
The pop-up store will be at the ExCeL Centre from August 17-21 as part of the Pokémon World Championships, which are taking place in London this year.
However, the last time a Pokémon Center pop-up store opened in London, the queues it created were enormous.
As such, fans are now encouraged to book a time slot online in order to reduce potential waiting times.
The Pokémon Company has revealed that the Pokémon Center store will feature two exclusive plush toys which will only be available for the duration of the World Championships in London.
A Pikachu plush and a Roserade plush, each sporting black beefeater outfits, will be on sale during the event and are likely to sell out quickly.
When the Pokémon Center pop-up store last visited London, the shop sold out of the London City Pikachu plush every day, often before 2PM.
The Westfield Shepherds Bush Pokémon Center pop-up store was open for four weeks between October and November 2019, with daily queues of up to five hours. More than 30,000 customers visited the store, it's claimed.
According to The Pokémon Company, the new pop-up store will feature "exclusive merch, photo opportunities, themed areas, advance timeslot reservations and a virtual queuing system for walk-ups."
Although booking a slot is recommended, it isn't required. According to the official Pokémon Twitter account: "If you are unable to make a reservation, you can join the virtual queue at the event to shop."