The Pikmin 4 demo is out now, alongside a 7-minute overview trailer
The Switch sequel arrives next month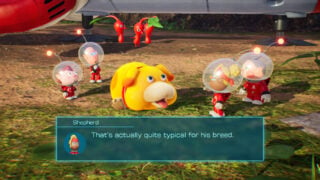 Nintendo has released a demo for Pikmin 4 on the Nintendo eShop, in addition to an extensive overview trailer.
The 7-minute video sets the scene for the Switch sequel, and details, among other things, its 'Dandori Battles' – competitive challenges against AI or another player to see who can most efficiently use their Pikmin to collect valuable items.
The trailer also showcases Pikmin 4's RPG-type features, such as the ability to upgrade your character with new items or gear, or upgrade your canine companion Oatchi's abilities. Finally, viewers are given a glimpse of the new nighttime challenges, which play out similarly to tower defence games.
---
Pikmin 4 Onion Locations
Purple Online location | White Onion location | Ice Onion Location | Rock Onion Location | Pink Onion Location
---
Pikmin 4 will be the first new entry for the series in a decade – Pikmin 3 was released on the Wii U in July 2013, before being ported to the Switch in 2020.
The game, which will seemingly also be the second major first-party Nintendo game to use Unreal Engine, sees the player taking control of a new character and using them to rescue both Captain Olimar and the Rescue Corps sent to find him, all of whom have crash-landed.