The Outer Worlds launch trailer and PC system requirements released
Obsidian's RPG hits PC, Xbox One and PS4 on Friday
Obsidian has released the launch trailer for The Outer Worlds, as well as the PC system requirements for the title.
The game launches on Friday, October 25 for Xbox One, PS4 and PC, the same day as a new Fallout software collection called Fallout Legacy hits stores, as well as Call of Duty: Modern Warfare.
You can pre-order the PC version of The Outer Worlds from publisher Private Division and the Epic Games store, and the Xbox One and PS4 editions of the title from Amazon, Best Buy and Game, among other retailers.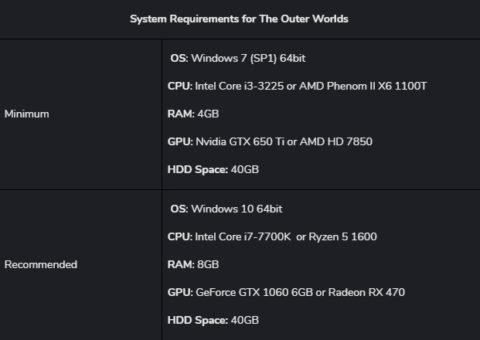 The Outer Worlds will also be available via Xbox Game Pass for console and PC, while a Switch version is set for release at a later date.
The Outer Worlds includes 4K textures and resolution on PC and Xbox One X, while the PS4 Pro version upscales content to adaptive 4K.
Microsoft, which acquired Obsidian in November 2018, has said it hopes to build The Outer Worlds into an "enduring franchise".
And in an interview published in September, the game's narrative designer Megan Starks said Obsidian is "absolutely interested" in fleshing out The Outer Worlds with future games and already has "a full universe of lore".