The original free-to-play Call of Duty game is shutting down this summer
Raven Software's Call of Duty Online launched for PC in China in 2015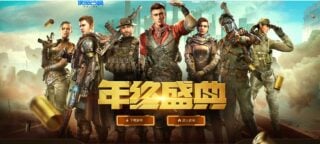 Tencent will shut down Call of Duty Online in China on August 31, 2021.
Citing an official announcement, Niko Partners senior analyst Daniel Ahmad said "declining revenue and lack of renewal" from Activision were behind the decision to close the game.
Developed by Raven Software and officially launched in 2015, Call of Duty Online was the first free-to-play entry in Activision's blockbuster franchise.
Players will be offered items in Call of Duty Mobile as an incentive to move over to Activision's newer free-to-play series entry, which is developed by Tencent's TiMi Studios and has been downloaded over 500 million times since launching in November 2019.
While Call of Duty Mobile was the first of its kind, free-to-play games have since become a core component of the Call of Duty franchise, with Warzone also attracting over 100 million players since its release in March 2020.
Activision Blizzard confirmed in May that Sledgehammer Games is leading development of 2021's premium Call of Duty game, which chief operating officer Daniel Alegre said "is looking great and on track for its fall release".
He added: "This is a built for next generation experience with stunning visuals across campaign, multiplayer and co-operative modes of play, designed to both integrate with and enhance the existing COD ecosystem."
Activision president Rob Kostich also said the game will include some "really fun integration" with Warzone.
The publisher claimed in April that over 400 million Call of Duty premium games have been sold since the first one released in October 2003.
The Call of Duty franchise has generated "life to date consumer spending of around $27 billion", it also said in February.