The No More Heroes series is over, its creator says
"Goodbye Travis Touchdown," says Suda51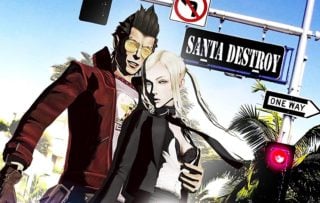 The creator of the No More Heroes series has claimed that the third game, released today, is the last.
Goichi Suda – otherwise known as Suda51 – took to Twitter today to draw a line under the series, informing fans that this was the end of the road for its hero Travis Touchdown.
"This game is called No More Heroes 3 Final Bout: All-Out Galactic War," he joked. "Or it was going to be called that, but the subtitle was just too long so we ended up taking a hint from the Rocky series and simply going with No More Heroes 3 instead."
"As hinted at with the 'Final' thing, Travis Touchdown will finally be coming to the end of his final battle, and will be embarking on a much-deserved, long journey. Join him as he goes absolutely buck wild in the Garden – no, Cosmos of Madness!
"Now, carrying with it a thousand thoughts, I run along the Thunder Road once more. As one journey ends, the crimson bike falls into a deep sleep.
"Goodbye, Travis. Goodbye, No More Heroes. Goodbye, fleeting moments and days. Farewell, to all Travis Touchdowns everywhere."
The first No More Heroes game was released on the Wii in 2007 and quickly gained a cult following for its over-the-top storyline, eccentric characters and unashamedly coarse dialogue.
The sequel, No More Heroes 2: Desperate Struggle, came out in 2010 and sees Travis seeking revenge for the death of his best friend.
Although an arcade-style spin-off, Travis Strikes Again, was released on Switch in 2019, it's the third 'proper' game in the series, which is finally released today, that fans had been waiting for.
In VGC's No More Heroes 3 review, we said the game's appeal "will primarily be aimed at established fans of the series, and there are plenty of twists here that they won't see coming".
Related Products
Other Products
Some external links on this page are affiliate links, if you click on our affiliate links and make a purchase we might receive a commission.