The next Mass Effect isn't expected until 2029 or later, report claims
BioWare has still to confirm a release date for Dragon Age: Dreadwolf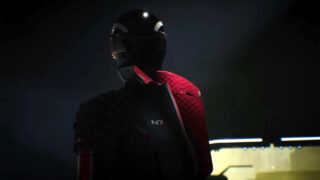 The next Mass Effect game may not see a release until 2029 or later, it's claimed.
BioWare marked its annual N7 Day on Tuesday by publishing a teaser for its next Mass Effect game.
However, during Giant Bomb's Game Mess Morning show on Wednesday, the site's Jeff Grubb and Tamoor Hussain both shared that, according to their sources, the game is still a long way off.
"You want some original reporting?" Grubb said. "This game is just nowhere near coming out.
"I was told that when they revealed Dragon Age: Dreadwolf in 2018, this is similar in terms of timeline. That was announced in 2018 and we're not getting that game until maybe next year.
"So now do the math for that, and we're talking 2029 for Mass Effect 5."
Hussain replied: "I've heard some things as well, and this game is so far away. It is so far in another galaxy right now."
Grubb went on to claim that his sources told him the N7 Day teaser was created mainly to reassure fans that a game was in the works, rather than any sort of indication that it was coming any time soon.
"When I asked, it was just like, 'hey, is this just because they have to do something for N7 Day?' Yes. For this thing, that's all this is."
BioWare's attention is still focused on Dragon Age: Dreadwolf, which has yet to receive a solid release window.
Grubb reported in August that the game's release "keeps getting pushed back" internally, after he discussed the behind-the-scenes goings-on at BioWare with unnamed sources following the news that BioWare was making a new round of layoffs.
Earlier in August week, BioWare general manager Gary McKay said the company was cutting around 50 roles as part of a "shift towards [becoming] a more agile and more focused studio".
Grubb's sources claimed Dragon Age: Dreadwolf was once being considered for release in September 2023, but that the game keeps getting delayed.
The game's target release window was then moved to March 2024 a while ago, but it's currently planned to come out next summer "at the earliest", it's claimed.
However, Grubb also said he thinks it's "very likely" that the game's release will get pushed back even further, "probably" to late next year but possibly to early 2025.