The new PS5 model has a 'completely redone' internal design, teardown shows
The CFI-1200 has a new motherboard, heat sink and SSD enclosure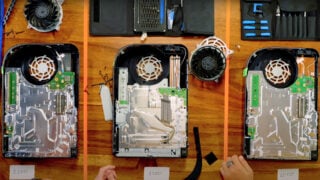 The latest iteration of the PlayStation 5 has "surprisingly different" internals, according to a new teardown video.
Tech YouTuber Austin Evans acquired a new CFI-1200 model of the PlayStation 5, which quietly went on sale in Australia at the end of August.
Last year Evans did the same with the then-new CFI-1100 model and sparked controversy after claiming that its smaller heatsink could make it a "worse" console (a theory later dismissed by Digital Foundry which concluded that it was no better or worse than the launch model).
This time, however, Evans is of the opinion that the CFI-1200 is a better system, due to numerous changes made to the console's internal components.
Evans notes that the new model has a "totally different" motherboard which is noticeably smaller than that of the previous models.
The new model's heatsink is even smaller than that of the CFI-1100 model, but it contains a heat pipe that runs through to the other side of the system, while Evans also noted that the SSD enclosure now has a "better" shield.
Combined, the new motherboard and heatsink lead to a weight reduction of even more than the 0.2kg reported, but the console's black plastic mould has extra support added to it, bringing the weight up slightly.
Evans also claims that the new model has more efficient power consumption, noting that during a test in which all three test consoles were playing Astro's Playroom, a launch model PS5 was drawing around 218 watts of electricity, last year's CFI-1100 model was pulling around 229 watts and the new CFI-1200 was only pulling around 201 watts.
The breakdown isn't entirely positive, though. Evans also points out that "they have moved around basically every component, including the CMOS battery which is now completely hidden by the heatsink.
He explains: "Before you could fairly easily replace it if you needed to, but now you need to completely disassemble your PS5, which is certainly a downside."
The new CFI-1200 series models of the PS5, currently on sale in Australia, weigh less than the launch consoles, to the extent that the standard edition with the disc drive is now as light as the digital edition was at launch.
This is the second time the PS5 hardware has been revised to make it lighter. In July 2021 Sony rolled out its CFI-1100 series, which also weighed less than the launch versions.
Each model's weight is as follows:
PS5 Standard Edition (with disc drive)
CFI-1000A (launch) – 4.5kg
CFI-1100A (2021) – 4.2kg
CFI-1200A (2022) – 3.9kg
PS Digital Edition (without disc drive)
CFI-1000B (launch) – 3.9kg
CFI-1100B (2021) – 3.6kg
CFI-1200B (2022) – 3.4kg
This means the new 2022 model of the PS5 standard edition now weighs the same as the Digital Edition did at launch.