The new Hogwarts Legacy trailer shows off PlayStation's exclusive quest
The exclusive content will include an additional dungeon, a shopkeeper's cosmetic set and more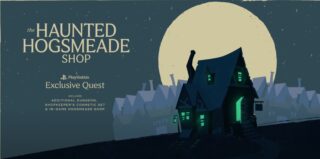 A new Hogwarts Legacy trailer has shown off the PlayStation-exclusive quest coming to the game.
"The Haunted Hogsmeade Shop" will see players explore a mysterious store in the wizarding town owned by Madam Mason.
A title card at the end of the trailer said that the exclusive content will include an additional dungeon, a shopkeeper's cosmetic set and an exclusive in-game Hogsmeade shop.
Hogwarts Legacy - PlayStation Exclusive Haunted Hogsmeade Shop Quest
From the trailer it appears that the player character will investigate the shop following the previous owner, Madam Mason, putting it up for sale. However, all is not what it seems as the quiet shop sits atop of mysterious dungeon full of trick walls and dangerous traps.
It was recently confirmed that Quidditch won't be playable in Hogwarts Legacy. 
Warner Bros Games recently showed off the floating wand that comes with the Hogwarts Legacy's Collector's Edition in an unboxing video.
Warner Bros also recently announced that Hogwarts Legacy has been delayed until 2023.
In a post to Twitter, the company said: "Hogwarts Legacy will launch on February 10, 2023 for PlayStation, Xbox, and PC. The Nintendo Switch launch date will be revealed soon.
"The team is excited for you to play, but we need a little more time to deliver the best possible game experience."
Developed by Avalanche Software (Disney Infinity), the title is described as an open-world RPG that takes players beyond Hogwarts to new and familiar locations, as they "live the unwritten and embark on a dangerous journey to uncover a hidden truth of the wizarding world."