The new 'hand-drawn' Asterix is a spiritual successor to Konami's arcade game
Asterix & Obelix: Slap Them All is a 2D beat-em-up coming to consoles and PC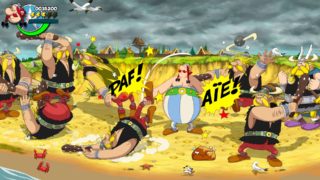 A new beat 'em up based on the Asterix comics is due for release later this year.
Asterix & Obelix: Slap Them All! features hand-drawn 2D art, giving it a look similar to the popular comics and animated movies created by the French duo René Goscinny and Albert Uderzo.
Like the comics, the game is set in 50 BC, and has players controlling Asterix or Obelix (or both in co-op) as they travel to a variety of locations from the series as they fight the likes of Roman legionaries, pirates, brigands and Normans.
The game is being developed by Mr Nutz Studio, a new French development studio owned by Pierre Adane, who had previously designed, programmed and produced the cult 16-bit platformer Mr Nutz.
More recently, Adane programmed the HD remake of Toki for the Nintendo Switch.
"Mr Nutz Studio is in charge of developing Asterix and Obelix: Slap them All! and making this adventure as respectful to the original material as possible," reads a statement by publisher Microids.
"The developers chose to go with an artistic direction very close to the comic book where the characters, the scenery and also the animations are hand-drawn. A real tribute to the 2D animated classics and a style that will surely appeal to fans and retro gamers alike.
"Unlike the magic potion [from the series], the gameplay recipe is pretty straight forward and holds no secrets. Think about the core mechanics defining the beat 'em up genre and sprinkle with some local co-op."
While there have been a number of Asterix games released over the years, Slap Them All! appears to be a spiritual successor to Konami's 1992 arcade game Asterix, which was also a beat 'em up that looked faithful to the comics.
This is the latest example of a classic beat 'em up getting a modern follow-up, official or otherwise. Streets of Rage 4 was released to wide critical acclaim last year, while a new Teenage Mutant Ninja Turtles game inspired by Turtles In Time is currently in development by some of the team behind Scott Pilgrim vs the World: The Game.
Asterix & Obelix: Slap Them All! will be released on PS4, Xbox One, Switch, PC and Mac in Fall 2021.