The 'most expensive' Xbox controller in the world has been crafted from solid gold
At a cost of around $87,500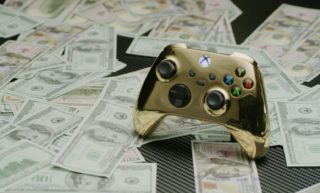 YouTube channel Linus Tech Tips has built what it calls "the most expensive Xbox controller in the world".
The controller was made from 1.5kg of 18-karat gold and cost in the region of $87,500 to produce.
The painstaking construction process, which was carried out by a Canadian company called Expert Casting, is documented in the two videos below.
A third video featuring reactions to the controller from the wider Linus Media team is currently in the works to help pay for the project. The initial impression offered by both CEO Linus Sebastian and writer Alex Clark at the end of the second video: "It's so heavy."
In related news, Microsoft has said it's working on a fix for unresponsiveness some players are experiencing with the new Xbox wireless controller, which is compatible with consoles, PC, mobiles and tablets.
The company released a statement to The Loadout regarding the ongoing issue, which has been reported on since the product launched alongside Xbox Series X/S in November 2020.
"At Microsoft, we put all of our products through rigorous quality assurance testing and are committed to providing customers with an unparalleled gaming experience," a Microsoft spokesperson said.
"We are aware some players may be experiencing unresponsiveness with their new Xbox Wireless Controllers and our teams are actively working on a solution. For the best experience, we encourage customers to visit Xbox Support for assistance."
Among other known Xbox Series X/S issues, Microsoft has said "some users may be experiencing frequent disconnects" with new Xbox wireless controllers, especially when using them on an original Xbox One console. It's a situation the company intends to fix in a future update.
Microsoft has also suggested a workaround for Windows PC players experiencing no button input in games when using new Xbox wireless controllers.