The Modern Warfare and Warzone Season 4 start time has been confirmed
"Large" download goes live tonight in the US / Thursday morning in Europe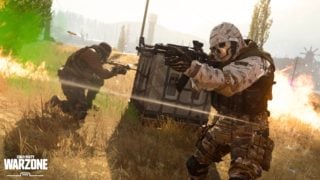 Infinity Ward has confirmed the launch timing for Call of Duty: Modern Warfare and Warzone Season 4.
The latest season of content will go live at 11pm PT tonight, which is 2am ET / 7am BST on Thursday.
Modern Warfare/Warzone Season 4 and Call of Duty Mobile Season 7 were originally due to start in the first week of June but were delayed in support of anti-racism protests taking place across the globe.
Update: Season 4 is now live, adding new In-Match Events for the Battle Royale game and a 50 v 50 team mode.
Original story continues: "The Season 4 download is going to be large," according to Infinity Ward senior communications manager Ashton Williams.
"In order to reduce the overall disc space that MW and WZ take up, we're compressing a bunch of assets. Once installed, the S4 launch will only take up an additional 4GB on consoles for all of the new content.
"We're continuing to sweep all assets to make size reductions where we can, and also further optimize future patches for size. If helpful, one reminder for console players, you can uninstall the content packs for modes that you're not playing if you want to free up space."
Modern Warfare/Warzone Season 4 is set to introduce campaign star Captain Price as the season's flagship operator. New weapons will include the Galil and Vector, while an updated version of Modern Warfare 2 map Scrapyard will be added to multiplayer.
Call of Duty Mobile Season 7, Radioactive Agent, will expand the battle royale game's map when it launches, although Activision has yet to confirm a new release date.
References to an alpha build of the next Call of Duty game – understood to be called Black Ops Cold War – have seemingly been uncovered on the PlayStation Network.