The Metroid Dread amiibo two-pack has been delayed in Europe
The figures, which increase players' health and missiles, will come a month after the game
Nintendo has announced that the amiibo figures being released for Metroid Dread have been delayed by a month in the UK and Europe.
The two-pack contains figures of Samus and an E.M.M.I. and each provides permanent upgrades to players' health and missile capacity.
However, Nintendo's announcement means players in Europe will not have access to these upgrades on the game's release date, and will now have to wait a month for them.
"Due to unforeseen shipping delays, the Metroid Dread amiibo 2-pack is now scheduled to launch across the UK and Europe on November 5th," Nintendo confirmed in a Tweet.
"Metroid Dread will still launch for Nintendo Switch on October 8th as originally scheduled. We apologise for the delay."
Metroid Dread overview trailer
The Samus amiibo will provide players with an extra energy tank, which increases their maximum health by 100. This will be a one-time only upgrade.
After this, players can tap the Samus amiibo once a day to top up their health, getting them out of trouble if Samus is close to death.
Meanwhile, the amiibo of E.M.M.I. (the robotic creature Samus faces in the Metroid Dread trailer) gives Samus a Missile+ tank, which increases the missile capacity by 10. Again, this is a one-time upgrade.
Once it's been applied, players can then tap the E.M.M.I. amiibo again to replenish their missiles once per day.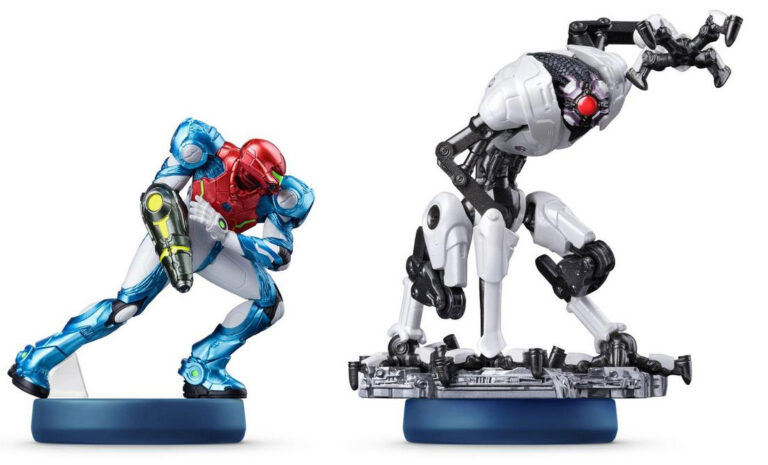 Nintendo's amiibo features recently drew some criticism when it was revealed that the Skyward Sword HD figure, which features Zelda and a Loftwing, can be used to activate travel from the surface to the sky whenever players want, instead of having to visit certain locations as in the Wii original.
Some players have expressed disappointment in this, arguing that fast travel is a 'quality of life improvement' that should be part of the remaster as standard instead of something locked behind a figure that's sold separately.
Nintendo officially announced Metroid Dread during its E3 2021 Nintendo Direct on Tuesday – 16 years after the long-rumoured instalment was first reported by the media.
Once again co-developed by Mercury Steam (Samus Returns), Dread will continue hero Samus' story after Metroid Fusion, exploring a strange new planet alone and hunted by the ominous E.M.M.I.