The Medium release date trailer showcases the Xbox Series X/S and PC game's dual-reality world
Bloober Team's psychological horror game launching in December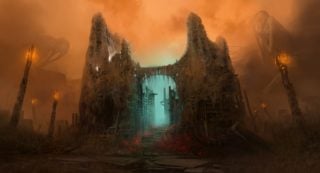 The Medium will be released on December 10 for Xbox Series X/S and PC via Steam and the Epic Game's Store.
Bloober Team's third-person psychological horror game is now available to pre-order for Xbox Series X/S priced at £41.74/€49.99/$49.99, while the Steam version can be pre-ordered for £29.69.
Following on from 2017's well-received Observer and 2019's Blair Witch, The Medium is described as the Polish studio's most ambitious game to date.
It sees players assume the role of Marianne, a medium living across the real and spirit worlds. According to Bloober, it features "never-seen-before and officially patented gameplay that plays out across two worlds displayed at the same time.
"Explore the physical world and the spirit world simultaneously, and use the interactions between them to solve dual-reality puzzles, unlock new paths, and awaken memories of past events," reads the product description.
To accompany the release date announcement, Bloober released the new video above showcasing The Medium's dual-reality world, which has been inspired by the dystopian surrealist art of Zdzisław Beksiński.
Bloober has said The Medium is also inspired by Konami's Silent Hill series, which is why it signed the horror franchise's composer Akira Yamaoka to contribute music to the game alongside Arkadiusz Reikowski (Blair Witch, Layers of Fear, Observer).
Bloober Team was engaged in merger and acquisition talks this summer.