The Marvel's Avengers 2021 content roadmap includes a Black Panther expansion
Future plans detailed as PS5 and Xbox Series X/S versions are released
Crystal Dynamics has announced its 2021 content roadmap for Marvel's Avengers, headlined by a Black Panther expansion in the summer.
"Black Panther and the War for Wakanda are coming to Marvel's Avengers along with Klaw, the Wakandan Jungle Biome, new enemies, and much more," according to the expansion's reveal trailer.
War for Wakanda will be made available to owners of the core game at no additional cost.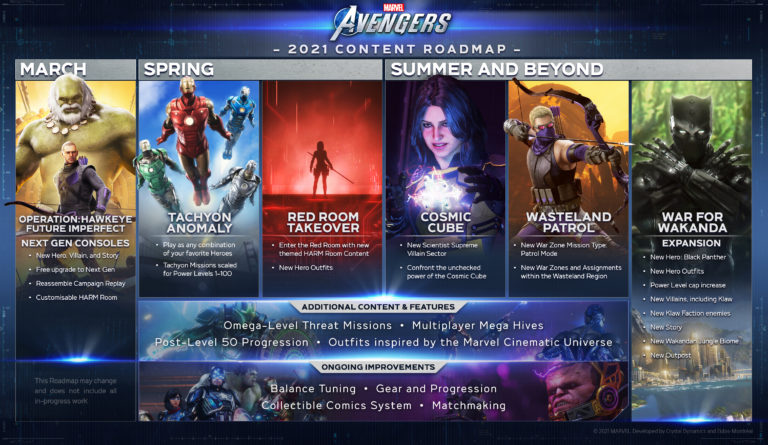 But the game's next chapter starts today with Marvel's Avengers patch 1.5.0, which introduces new hero Clint Barton and fresh story content in the form of Operation Hawkeye: Future Imperfect.
It also introduces the ability to replay the game's campaign alongside customisable HARM (Holographic Augmented Reality Machine) Rooms, which let players choose the enemy types and numbers they want to face off against, add hazards, and apply buffs such as reduced damage or invulnerability.
Today also marks the release of the PS5 and Xbox Series X/S versions of Marvel's Avengers.
Players moving from PS4 to PS5 or Xbox One to Xbox Series X/S will be able to upgrade free of charge and transfer their saves, player profiles and progression. Cross-gen play will be supported within console families.
Also starting today, the amount of XP needed to level up a character once they reach level 25 will increase with each level, meaning it will take longer for each character to reach the maximum level 50.