The Mario movie has a post-credits scene that hints at a sequel, Chris Pratt says
The Mario actor has already made comments about "an entire universe" of movies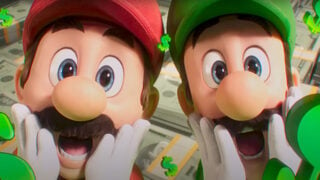 Chris Pratt has revealed that The Super Mario Bros Movie has a post-credits scene that may hint at a potential sequel.
In an interview with CBR, Pratt and co-actor Charlie Day were asked if they would like to see a sequel, with the interviewer jokingly suggesting that it could be based on Mario Golf.
"Listen," Pratt replied, "at the end of the film, there's a post-credit sequence that gives you a taste of what the sequel could be about. And that gets me very, very excited."
He added: "There's been talk of Luigi's Mansion. That was a Gamecube game. I think that would be great."
Pratt already expressed his interest in seeing a sequel in an interview posted by ExtraTV earlier this week, and went as far as to suggest The Super Mario Movie could the first part of a long-term project consisting of multiple films.
Speaking to interviewer Jenn Lahmers, Pratt said: "You saw the movie. It really honours the video game, it honours the world of Mario and it's very promising as to what we could expect over the next 10 years, like an entire universe of these types of movies.
"They're super nostalgic, they're really fun, it's Illumination so they know what they're doing, and it's great because – especially for me, now that I have kids, I have to see every animated movie whether it's good or not, so I'm really grateful when a great animated movie comes out, and that's what this is thankfully. And hopefully there'll be more."
Pratt's comments were echoed by Seth Rogen, who plays Donkey Kong in the movie and responded with similar enthusiasm when asked by ComicBook.com if he would like to see a sequel focusing more on Donkey Kong.

"It would be fun," Rogen replied. "I honestly had a great time doing it and I think it's a big world, gigantic, and it seems to be a thing that people are excited to see."
There has already been speculation about a potential Donkey Kong movie, most notably by Giant Freakin Robot, a movie news site with some track record of exclusive reporting.
The site claimed in November 2021 that the Donkey Kong project had entered production and that Rogen had signed up to play the character again.
The report followed claims made earlier in 2021 that Nintendo is planning a big push for its Donkey Kong franchise, including a new game, 'animation' and theme park world.
The latter has since been confirmed, with Nintendo officially announcing that the Super Nintendo World area in Universal Studios Japan will be getting a Donkey Kong expansion in 2024.
Originally set to release on April 7, The Super Mario Bros Movie release date has now been moved forward to April 5 in "the US and in more than 60 markets around the world", including the UK.
Along with Pratt as Mario and Rogen as Donkey Kong, the movie stars Charlie Day (It's Always Sunny in Philadelphia) as Luigi, Anya Taylor-Joy (The Queen's Gambit) as Peach, Jack Black (Jumanji) as Bowser and Keegan-Michael Key (Key & Peele) as Toad.
Related Products
Other Products
Some external links on this page are affiliate links, if you click on our affiliate links and make a purchase we might receive a commission.