The Mario Game & Watch has already been hacked, hours before it's even released
Security expert modifies device to run custom ROM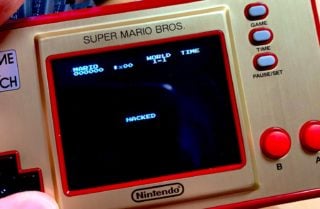 Nintendo's Super Mario Bros. Game & Watch has already been hacked to run custom software, before it's even officially released.
Thomas Roth, a security researcher and consultant from Germany, received his Game & Watch: Super Mario Bros. a day ahead of its November 13 release and quickly got to work tearing it apart.
Under the pseudonym StackSmashing, Roth runs a popular YouTube channel dedicated to circumventing the security of past Nintendo portables, including hacking the original Game Boy's cartridge protection.
After six hours of exploring the new Game & Watch's internal components, Roth claimed to have circumvented its security and replaced the device's default Super Mario Bros. ROM with a modified one.
Roth claimed the process required no soldering and said he'd soon release a video detailing the entire process. He did not say whether the modification could potentially allow the Game & Watch to run game ROMs other than Super Mario Bros.
Set for release on November 13 for $49.99, Game & Watch: Super Mario Bros. features a modern d-pad and classic games Super Mario Bros., Super Mario Bros.: The Lost Levels and a special version of Ball with a Mario makeover.
The portable also comes with a digital clock which can play 35 different animations – including some guest appearances from Mario and friends – in tribute to the Nintendo mascot's 35th anniversary.
Nintendo's previous classic consoles, the NES and Super NES minis, were also quickly modified by the community and eventually able to run virtually any classic game ROMs.
However, Game & Watch hacker Roth emphasised on Thursday that the new portable had "completely different hardware" to Nintendo's previous classic consoles and thus similar results are not a foregone conclusion.
Related Products
Other Products
Some external links on this page are affiliate links, if you click on our affiliate links and make a purchase we might receive a commission.