The Mario Bros. Movie is coming to Europe, South America and Australia before the US
The UK will be getting the film on March 30, it's been confirmed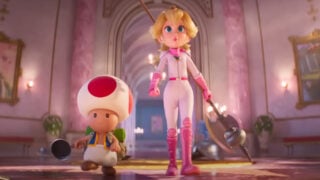 The Super Mario Bros Movie will be coming to parts of Europe, Australia and South America before it arrives in the US.
Since the film's first trailer was shown, various different regional arms of Universal Pictures have been confirming their own release dates for the movie, and many appear to be taking place before the April 7 release confirmed for the United States.
On Tuesday, Universal Studios UK confirmed that The Super Mario Bros Movie will release in UK cinemas on March 30. Meanwhile, Universal Studios France confirmed a March 29 release for French cinema-goers.
The earliest date to be confirmed so far is Belgium, where Universal Studios Belgium has confirmed a March 22 release. Australia and New Zealand will also be getting the film before the US, with both countries confirming a March 30 release date.
The Universal Pictures Latin America site also confirmed that most of South America will also be getting the film before the US's April 7 date.
A selected list of confirmed release dates is as follows:
Belgium – March 22
Switzerland – March 23
Austria – March 24
Sweden – March 24
France – March 29
Australia – March 30
Bolivia – March 30
Brazil – March 30
Central America – March 30
Chile – March 30
Colombia – March 30
Mexico – March 30
New Zealand – March 30
Paraguay – March 30
United Kingdom – March 30
Uruguay – March 30
Argentina – April 6
Ecuador – April 6
Italy – April 6
Peru – April 6
Venezuela – April 6
USA – April 7
Japan – April 27
Nintendo and Illumination premiered the second trailer for The Super Mario Bros Movie during a special Nintendo Direct on Tuesday.
The second trailer opens with Mario fighting Donkey Kong, and lets fans hear the voices of Peach (Anya Taylor-Joy) and Luigi (Charlie Day) for the first time. It also shows a racing scene inspired by Mario Kart.
Promotional images for the movie leaked earlier on Tuesday, along with fresh details about the film.
These included an image of Mario and Luigi in the real world, with a street sign saying 'Brooklyn', implying that some of the older Mario lore from the '80s and '90s is returning.
The leak also added an apparent synopsis of the movie's story. It reads: "The movie tells the story of two Brooklyn plumbers who are brothers and best friends: Mario, the brave one with the 'let's-a-go' attitude, and the perpetually anxious Luigi, who would prefer to go nowhere."
It adds: "We open with the Super Mario Brothers reckoning with their struggling plumbing business, and wind up in a whirlwind adventure through the Mushroom Kingdom. Through their journey, we meet a cast of familiar, loveable characters, ultimately uniting together to defeat the power-hungry villain, Bowser."
Related Products
Other Products
Some external links on this page are affiliate links, if you click on our affiliate links and make a purchase we might receive a commission.