The logo for Nintendo NX, the Switch's prototype, has seemingly been leaked
An apparent boot animation has been discovered and shared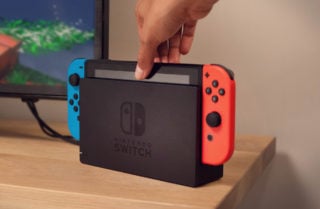 The logo and boot animation for the Nintendo NX, the prototype for the Switch, has seemingly been discovered and leaked online.
NX was the original codename for the Switch, and was first publicly mentioned in March 2015 as part of an announcement for Nintendo's partnership with mobile developer DeNA.
The console retained this codename for more than a year and a half. Nintendo wouldn't officially announce its name as Switch until October 20, 2016.
Although the console was known as the NX for 19 months, however, Nintendo had never shown an NX logo, meaning it never been seen externally until now.
Game preservationist and translator Paul Kelly tweeted on Sunday that an early prototype of Mario Kart 8 Deluxe had been discovered on a prototype EMMC ODIN chip (an early version of the Switch board).
Kelly linked to the prototype on archive.org, but it has since been deleted.
A few hours later, Kelly claimed that an early logo and boot-up animation for the NX was discovered in the prototype.
While the possibility remains that this is an elaborate hoax, footage and screenshots shared from the Mario Kart 8 Deluxe prototype appear to be genuine.
The prototype has a build date of October 18, 2016, two days before the Switch was officially announced with its new name.
Nintendo announced earlier this month that as of September, Nintendo Switch hardware sales had hit 114.3 million.
Earlier this year Switch was already confirmed as the best-selling Nintendo home console of all-time, beating Wii's 101.63m. However, it still has a way to go before it matches Nintendo DS's 154.02 million units sold, and Game Boy (and Game Boy Color) at 118.69m.
Outside of Nintendo's own consoles, only PlayStation 4 (116.6m) and PlayStation 2 (155m) have outsold Nintendo Switch.
Related Products
Other Products
Some external links on this page are affiliate links, if you click on our affiliate links and make a purchase we might receive a commission.