The Lego Atari 2600 will include cartridges that can be turned into vignettes
Vignettes of Asteroids, Adventure and Centipede are included in the set.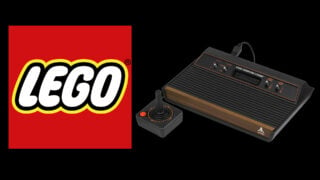 A description for the upcoming Atari 2600 Lego set has appeared online.
Following the news earlier this year that the classic console would be receiving the Lego treatment in the same way as the Lego NES, Lego website Promobricks, who have a strong record of Lego reporting, have been provided with a description of the set.
According to the website, the set, which will cost 239.99 EU (prices in other regions haven't been confirmed), will include 2532 parts and release on August 1.
"LEGO Atari 2600 comes with 3 cartridges with the games Asteroids, Adventure and Centipede." writes Promobricks. "The special feature here: The game cartridges can apparently be converted into small vignettes (8×8) to match the game themes they contain."
The set will also seemingly allow players to remove a section the roof of the console to reveal a scene within the machine itself.
"You can see a typical 80s youth room, a minifigure sitting on the floor with a joystick in his hand and playing Asteroids on a tube TV. There is a mini Atari in front of the television, various posters are hanging on the room wall, there is a ghetto blaster, an old-fashioned telephone and a white cat," Promobricks reports.
Lego and Nintendo recently announced their next collaboration: a 270 EUR / $270 'Mighty Bowser'.
The set, which is planned for release on October 1, is made up of 2,807 pieces and includes controllable movements and "the ability to launch a fireball".
"As well as having a fireball launcher and a button to control Bowser's head and neck movements, his mouth, arms, legs, and tail will be movable too, so fans can replicate the fearsome nature of the Koopa King that they know and love," Lego said.
Related Products
Other Products
Some external links on this page are affiliate links, if you click on our affiliate links and make a purchase we might receive a commission.