The Legend of Zelda: Oracle of Ages & Seasons are now on Switch
The Game Boy Color titles are available to anyone with a Switch Online subscription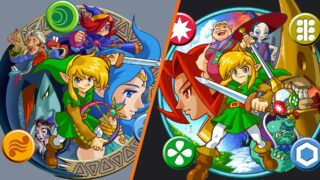 Nintendo has added two more classic Zelda games to the Switch.
The Legend of Zelda: Oracle of Ages and The Legend of Zelda: Oracle of Seasons are now both available as part of the console's Game Boy library on Switch Online.
Both games were released for the Game Boy Color on the same day in 2001, and were developed by Flagship, a subsidiary of Capcom.
Played from an overhead perspective similar to other early Zelda games like A Link to the Past and Link's Awakening, both titles have entirely separate storylines but have a linked ending.
Oracle of Ages is set in the land of Labrynna, and sees Link taking on Veran, an evil Sorceress of Shadows.
Oracle of Seasons, meanwhile, is set in a different world called Holodrum and has Link trying to rescue the oracle Din from the ruthless General Onox.
Upon finishing one of the games, players will get a password which can be entered into the other game. This makes the second game serve as the continuation of the plot (rather than a separate adventure), and reveals an extra dungeon at the end where players can see the true ending.
The addition of both games now brings the total number of Game Boy and Game Boy Color titles on the service to 15. The full list is as follows:
Alone in the Dark: The New Nightmare (GBC)
Blaster Master: Enemy Below (GBC)
BurgerTime Deluxe (GB)
Game & Watch Gallery 3 (GBC)
Gargoyle's Quest (GB)
The Legend of Zelda: Oracle of Ages (GBC)
The Legend of Zelda: Oracle of Seasons (GBC)
Metroid II: Return of Samus (GB)
Kirby Tilt 'n' Tumble (GBC)
Kirby's Dream Land (GB)
Kirby's Dream Land 2 (GB)
Super Mario Land 2: 6 Golden Coins (GB)
Tetris (GB)
Wario Land 3 (GBC)
Game Boy and Game Boy Color games are available via a Switch Online subscription, and a further 11 Game Boy Advance games are available through its Expansion Pack tier. Most recently, Nintendo added Fire Emblem to the GBA library.
Nintendo has previously confirmed that Pokemon: Trading Card Game will be coming to the Game Boy library in the future, while upcoming Game Boy Advance games include Kirby and the Amazing Mirror, F-Zero: Maximum Velocity and Golden Sun.
Related Products
Other Products
Some external links on this page are affiliate links, if you click on our affiliate links and make a purchase we might receive a commission.