The latest Horizon trailer introduces the tribes of Forbidden West
The delayed PlayStation exclusive will be released next month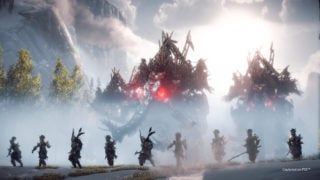 Sony Interactive Entertainment has released a new Horizon Forbidden West trailer, which you can view below.
It introduces players to some of the tribes protagonist Aloy will encounter on her journey to investigate a mysterious red blight that's strangling the world of Forbidden West, which is set some 1,000 years after the fall of mankind.
The game was originally scheduled to launch in 2021 but following a delay, the Horizon Forbidden West release date is now set for February 18, 2022.
Horizon Forbidden West | Tribes of the Forbidden West
Horizon: Forbidden West will be available for PS4 and PS5, with last-gen players able to upgrade to the new-gen version free of charge.
At CES 2022 this week, Sony revealed the PlayStation VR2 specs and the hardware's first game, Horizon Call of the Mountain.
The title is being developed by Guerrilla Games in partnership with new PlayStation studio Firesprite.
"It's been designed to push gameplay, technology and hardware innovation and it truly shows what's possible with the hardware's best-in-class visual experience and controllers", claimed Guerrilla studio head Jan-Bart Van Beek.
At CES, Sony also premiered new Uncharted movie footage and teased "multiple projects" from Naughty Dog.