The latest Call of Duty Vanguard update wipes mid-level saves but fixes code redemption issues
Patch notes reveal campaign, multiplayer and Zombies updates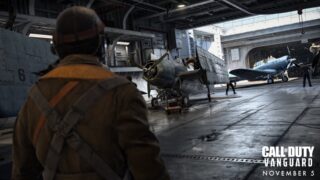 Sledgehammer Games has released a new Call of Duty: Vanguard update.
According to the on-console patch notes, the update wipes mid-level checkpoint save data, meaning campaign players will need to restart the mission they were on last time they played the game.
Users who have been unable to redeem codes for the likes of XP bonuses, Calling Cards and Emblems should now be able to do so following the update's release.
Call of Duty: Vanguard - Multiplayer Trailer
Elsewhere, the Combat Shield now provides cover when placed on players' backs, Operator Challenges no longer appear to reset following completion, and previously inaccurate unlock requirements for Weapon Challenges have been updated.
The full list of campaign, multiplayer and Zombies changes included in today's update are republished below.
Dataminers recently unearthed details on new Operators that could be headed to Call of Duty: Vanguard and further evidence of an upcoming Attack on Titan crossover.
Call of Duty: Vanguard and Warzone Season 1 will arrive on December 2 alongside the battle royale game's new Pacific map Caldera.
According to VGC's Call of Duty Vanguard review, Sledgehammer's game "feels like a solid step-up from Black Ops Cold War, but falls short of the benchmark that was Modern Warfare 2019″.
---
More Call of Duty:
Best Vanguard loadout | Call of Duty Vanguard review | Modern Warfare 2 (2022) details | Best Warzone loadout | Warzone best sniper | Warzone best SMG | Warzone best Stoner 63 | Warzone best AK-47 | Warzone best Bullfrog | Best FARA Warzone loadout | Best AMAX Warzone loadout
---
CoD Vanguard November 10 patch notes
Campaign
Mid-level checkpoint save data has been invalidated. Note: Players have not lost all their campaign progress. Save loads will deliver players to the beginning of the latest level rather than their last checkpoint
Multiplayer
Users unable to redeem codes for incentives such as XP Bonuses, Calling Cards, and Emblems can now redeem rewards
Combat Shield will now protect player's backs once stowed
Invisible player models in MVP voting and Play of the Game have been fixed
Fixed a bug affecting Constanze's skin progression
Operator Challenges no longer appear to reset after completion
Inaccurate unlock requirements for Weapon Challenges now display correctly
1911 Pistol will now progress past Level 50
Weapons can now be accessed in the Loadouts/Gunsmith after level 66
Zombies
Camo Progression: All Pistol challenges can now be properly completed
Exfil: The kill count to Exfil now correctly tracks zombies killed
Bleedout Meter: Self-Revive meter no longer fails to show progress