The Last of Us TV show release date has seemingly been revealed early by an HBO app
The release date reveal is planned for later in the week, a source tells VGC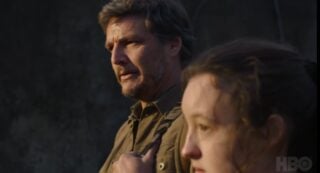 HBO's The Last of Us show will premiere in January, according to the HBO Max app.
According to multiple Twitter users, and verified by VGC, the entry for the show on the HBO Max app lists the release date as January 15, 2023.
A senior source with knowledge of the show's release plans told VGC that this date is legitimate and had been posted early in error. It's also been claimed to VGC that an official reveal is scheduled for later in the week.
It is currently unclear if the show will debut in other territories where HBO Max isn't available at the same time.
The series, which will air on HBO Max in the US and Sky in the UK, will cover the events of the first game, as well as potentially some content based on The Last of Us Part 2.
Pedro Pascal and Bella Ramsey will portray the show's lead characters, Joel and Ellie.
Nico Parker (Dumbo), the daughter of actress Thandie Newton, is playing Joel's daughter Sarah, while Gabriel Luna (Agents of Shield) stars as Joel's brother Tommy.
Pascal, known for his work in The Mandalorian and Game of Thrones, intentionally created distance between his version of the character and Troy Baker's in-game portrayal, only briefly watching his nephew play the game.
"I watched for as long as I was able to that day, and then I had to leave Florida," he recalled in an interview earlier this year.
"I found Joel so impressive – I found the whole of it such a visually impressive experience. And then I got worried that I would want to imitate too much, which I think could be right in some circumstances, and then a mistake in others."