The Last of Us 2's director won't talk about his new game 'unless someone at PlayStation leaks it'
Neil Druckmann comments on his latest project and Thursday's Last of Us remake leak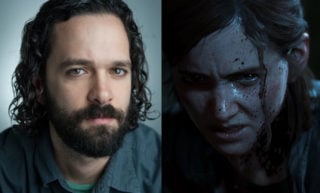 Naughty Dog's Neil Druckmann has confirmed that he's directing a new game.
During an appearance at Thursday's Summer Game Fest showcase, the writer and creative director behind The Last of Us games and Uncharted 4 said he hasn't given up his day job since being promoted to studio co-president in 2020.
While Naughty Dog has historically struggled to fully implement a multi-project development strategy, Druckmann said The Last of Us 2's commercial success has enabled the Sony-owned studio to take on more work than it was previously capable of.
"Last of Us Part 2, earlier this year it passed a pretty big milestone, it sold over 10 million units," he revealed. "That kind of support, that kind of success, we're so grateful to our fans, and it has allowed us to grow as a studio and now we can take on multiple projects, more than we've ever had at the same time."
These include The Last of Us Part 1, a remake of 2013's original PS3 series entry, and a standalone multiplayer project set in the same universe.
While Druckmann officially unveiled both projects during Thursday's event, the Last of Us remake reveal was spoiled when a trailer and details leaked a couple of hours before the show via Sony's PlayStation Direct online store.
The leak clearly disappointed Druckmann, who referenced it for a second time when asked by Summer Game Fest host Geoff Keighley whether he's still directing games.
"[I'm] still making games, I haven't given up my day job," he responded. "It's a little too early to talk about it. Maybe if someone in PlayStation wants to leak it then we could talk about it now, otherwise we'll save it."
He added: "[I] do have a new project, but we'll save it for another Summer Game Fest."
The Last of Us Part 1, which is coming to PS5 in September and is in development for PC too, promises a faithful reproduction of the original game with modernised gameplay and controls.
Druckmann said Naughty Dog's standalone The Last of Us multiplayer game is as big as any of the studio's single-player titles. It has its own story, a brand-new cast of characters, and more information on the game will be released in 2023.
Fellow Naughty Dog co-president Evan Wells said in April 2021 that the studio was still struggling to fully implement a multi-project development strategy, something it first attempted to embrace with The Last of Us and Uncharted 3.
"I would say even today we're just short of that," he told the Game Maker's Notebook podcast. "We definitely have multiple projects, but only one that is getting the lion's share of focus at any time.
"We don't have two projects that have several hundred people on them. We have one [project] and then some that are in pre-production, or maybe just creeping out of pre-production, but will have to wait until the main focus has completed before we move everybody off of that project."
Related Products
Other Products
Some external links on this page are affiliate links, if you click on our affiliate links and make a purchase we might receive a commission.