The LA Lakers are selling a custom Halo Xbox bundle, and it's already being scalped
The limited edition $140 set contains a special controller and Master Chief Lakers jersey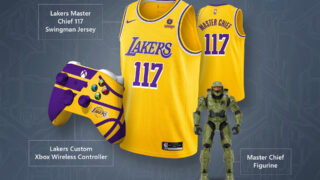 The Los Angeles Lakers are selling a limited edition Halo Infinite themed merchandise bundle.
The $139.99 set, which was announced by the Lakers' Twitter account, is only available at the Team LA store at the Staples Center, the arena where the Lakers play.
The bundle includes:
an LA Lakers jersey with 'Master Chief' on the back and number 117
a custom Xbox Series X/S wireless controller with an LA Lakers design
a Master Chief figurine
Halo Infinite - launch trailer
The bundle went on sale at 1.17pm on Friday, and because of its exclusivity to a single LA store, many bundles have already been snapped up by scalpers and are selling on eBay for many times the original cost.
While some of the listings are offering it for Buy It Now for anything from $1000 to $2599, others being auctioned are attracting bids of $510 and $660, a number of times more than its $139.99 price.
While the custom controller here has an LA Lakers theme instead of a Halo theme, Xbox is already selling custom Halo-themed hardware, including a limited edition Xbox Series X console and Elite Series 2 controller.
The limited edition Halo Xbox Series X includes a downloadable copy of Halo Infinite, which will be redeemable when the game is released on December 8.
The top of the console features a custom star pattern as seen from the surface of Zeta Halo that extends to the top of the console and onto the fan. Below the stars, the top vent is accented in Cortana-themed blue.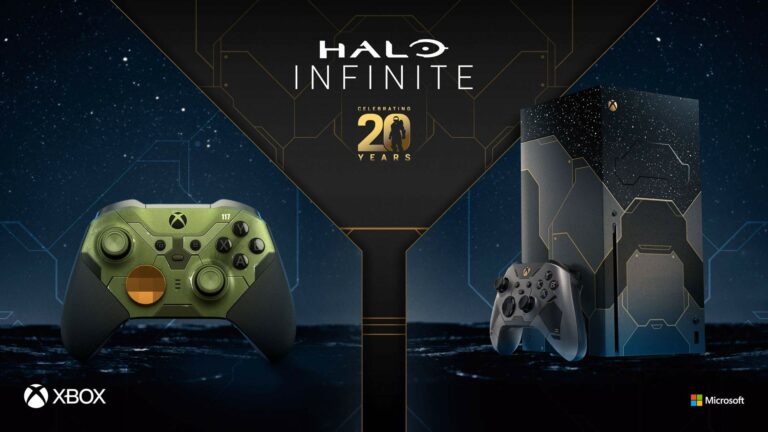 The console also powers on with custom Halo-themed sounds, and its included controller is also custom designed to match the console.
The console's design was inspired by the expansive Halo universe and is wrapped with dark metallic panelling with an iridium gold accent.
The controller, meanwhile, is inspired by the Master Chief's armour, with a "battle-worn, matte metallic green" finish with an iridium gold D-Pad. Its swappable components come in a custom carrying case with the UNSC insignia on it.