The Katamari Damacy remaster is coming to PS4 and Xbox One in November
Katamari Damacy Reroll released for Nintendo Switch and PC in 2018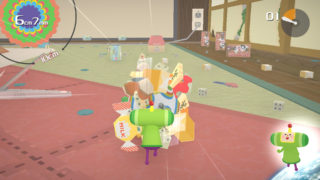 Bandai Namco will release Katamari Damacy Reroll for PS4 and Xbox One this year.
Featuring "enchanting graphics, smooth controls and adjusted difficulty", the remaster will be available beginning on November 20.
Katamari Damacy first released for PS2 in 2004 before Reroll released for Nintendo Switch and PC in 2018.
"In Katamari Damacy Reroll, the King of All Cosmos accidentally destroyed the stars from the sky," reads a blurb for the game. "Control a cute little Prince and roll the Katamari to bring the night lights back!
"Give rhythm to your rolling journey with an exciting soundtrack made of renowned Japanese artists of various musical genres, from jazz to rap and funky rock, always with a wacky touch!"
Wattam, the latest game from Katamari Damacy and Noby Noby Boy creator Keita Takahashi, released for PS4 and PC via the Epic Games Store in December 2019.