The head of Arkane Lyon has left after almost 17 years at the Deathloop studio
Romuald Capron departs to pursue new challenges and spend more time with his family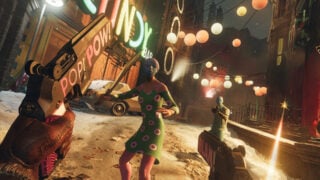 Arkane Lyon studio head Romuald Capron has left the company after almost 17 years.
Capron joined the developer as chief operating officer and production director in January 2005, before also being appointed studio head in April 2019.
He stepped down last week, shortly after the launch of the studio's latest game, the critically acclaimed Deathloop, and seven months after Arkane's parent company ZeniMax Media was acquired by Microsoft.
In a LinkedIn update, Capron said he had taken the "very hard decision" to leave Arkane as he felt "the need to try something new" and also spend more time with his family.
"I'm very proud of what we accomplished with this amazing team," he wrote. "The successful launch of Deathloop is just another proof that Arkane has a very bright future and unique place in our industry.

"I'm letting the studio in very good hands, under the leadership of [game director and co-creative director] Dinga Bakaba, [art director and co-creative director] Sébastien Mitton, [technical director] Hugues Tardif and [executive producer] Morgan Barbe, who – I'm sure – will keep on pushing ambitious and innovative projects.
"As for my own future," he added, "my goal is to keep on helping video game companies, and others, to make their creative vision become a reality, since that's what I love to do. Stay tuned…"
Deathloop released for PS5 and PC in September. In VGC's 5-star Deathloop review, critic Jon Bailes called the title "one of the smartest and most outright entertaining games of the year."
He wrote: "Deathloop is slick and inventive, with a delicious sense of style and humour. It distils Arkane's hefty systems into something more explicitly playful, then leaves its sparkling cast to run riot in its huge interlocking puzzle of an island."