The Halo TV series will show a different side of Master Chief, 343 says
Studio discusses "probably the biggest challenge with adapting the game"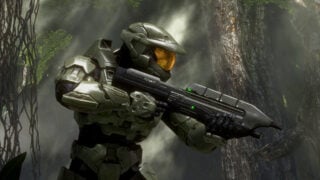 The upcoming Halo TV series promises to show a different side of protagonist Master Chief, 343 Industries has said.
Kiki Wolfkill, studio head of head of Halo transmedia at 343, told IGN that bringing the iconic Xbox character to a new medium after 20 years of video game appearances was perhaps the greatest challenge the team faced with the project.
"Probably the biggest challenge with adapting the game is, the game is designed to put you into Chief's armour," she said. "What we're asking people to do with the show is to sort of sit back and say we're going to present a side of Chief that you just don't get to play in the game."
She added: "For the television series, you want to be able to do something new in Halo and we want people to be able to experience it differently and there's such as responsibility."
The upcoming show stars Emmy and Tony nominee Pablo Schreiber (The Wire, Orange Is the New Black, First Man) as Master Chief, "Earth's most advanced warrior in the 26th century and the only hope of salvation for a civilization pushed to the brink of destruction by the Covenant, an unstoppable alliance of alien worlds committed to the destruction of humanity".
"In a first-person shooter, there is only so much of a character journey because of that wanting to maintain some of that character for people to pour into him or her," Wolfkill said previously (via GameSpot). "So, TV gives us a long form ability to really focus on character and story in a way that's harder to relay in a first-person game.
"The hope is you can play the game and you can have this sense of who this character is, and you can love that, and then you can stop and put that aside and enjoy this other experience and get taken on a different journey. And see that character in a different way without feeling like it's impeding on the character you already have in your heart around the game."
The Halo TV series will air exclusively on streaming service Paramount+ when it launches in the first quarter of 2022.
The next entry in the video game series, Halo Infinite, is scheduled to be released during the 2021 holiday season.