The first Switch OLED unboxing video has arrived
A Japanese YouTuber has the upcoming OLED model and shows it in action
A Japanese YouTuber has received a Switch OLED model and has created the first unboxing video.
HikakinTV has posted a 16-minute video (seen embedded above), which shows the Switch OLED next to a standard Switch and a Switch Lite.
The video also shows him unboxing the Switch OLED and laying out all the contents of the box on his table.
Although the video can't do justice to the new Switch's OLED screen – which is able to display deeper blacks and higher contrast than a standard display – there is still a clear difference in brightness between the OLED model and the standard Switch in the video.
He then proceeds to play some games on the Switch OLED, allowing the viewer to see the quality of the screen in action.
Switch OLED reveal trailer
When media outlets including VGC went hands-on with the Switch OLED model last month, photography of the device was not allowed to be shared.
The new Switch model will release on October 8 (the same day as Metroid Dread) in two colour sets (white and red/blue) for $349.99.
Switch OLED features a larger 7-inch screen and other smaller additions such as a wide adjustable stand, a new dock and enhanced audio. Nintendo has confirmed that its new Switch OLED model features "no major internal changes" compared to previous Switch models.
We wrote in our hands-on with Switch OLED that the revision "feels like a striking improvement compared to the original Switch model – as long as you like playing in portable mode".
"Playing Mario Odyssey side-by-side with an original Switch reveals far more detail on scenery like grass and water on the newer model, while the latter overall looks totally washed out compared to the newer unit. As far as the screen goes, it's really no contest between the two Switch models".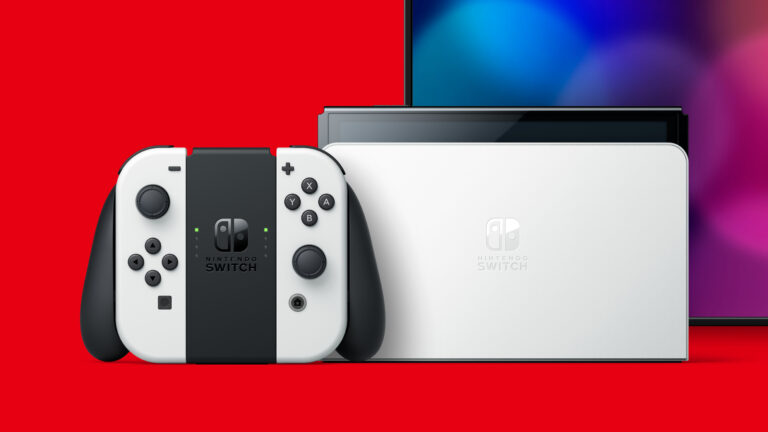 Our hands-on continues: "Another pleasant surprise from our hands-on with Switch OLED model were the small improvements Nintendo has made to make it feel like an overall more premium device.
"The screen, beyond looking fantastic, now pretty much fills the bezel and what little does surround the display now sports a pleasing glossy finish, as opposed to the cheap looking plastic of the original Switch.
"The rear of the Switch OLED is also far smarter, with the previous model's mess of logos removed and replaced with a smart-looking wider stand (more on that in a moment). The aesthetic improvements also extend to Switch OLED's new white coloured dock, which certainly looks nicer than its predecessor."
Nintendo recently released a statement claiming that the company has "no plans" "at this time" for an additional Switch model beyond OLED, as speculation continues around a 4K-capable 'Switch Pro'.