The first Super Mario Bros Movie verdicts are mostly very positive
Those who attended the premiere are sharing their reactions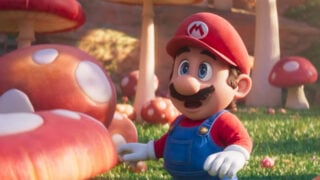 The first verdicts on The Super Mario Bros Movie have started arriving, and they're almost entirely positive.
The film's premiere took place in Los Angeles on Saturday, and some of those in attendance have been sharing their views on Twitter.
Kinda Funny's Tim Gettys wrote: "The Super Mario Bros Movie was awesome. Teared up from hype more than once. The music is the star of the show. Nintendo fans are gonna be obsessed.
"I'm not sure any movie in history has ever had this many easter eggs. And good ones!"
Kit Ellis and Krysta Yang, the previous co-hosts of official Nintendo YouTube show Nintendo Minute, were similarly enthusiastic. "We just got out of the movie," Yang said in a video posted on Twitter. "Oh my God, it was incredible."
"Incredible," agreed Ellis. "Such a love letter to the whole decades and decades of Mario. This is a movie that you're going to want to see a lot of times because it was just like, little reference, little reference, and I think we all missed some."
Filmmaker Deondre Aviles said the film was "perfect" and gave it a score of 10/10, adding: "I haven't felt like this for an animated movie since the 2014 Lego Movie. Stunning animation, and music by Brian Tyler. It's gonna be big. Give me the Cinematic Universe!"
Atom, a Twitter account dedicated to film reviews and news, called the film "a charming adventure with the Nintendo plumbing duo, full of fun cameos that'll drain your warp pipes."
"This isn't just another video game movie," it added, "it's one of the best family films ever," with "a fitting end setting up what's next".
While most verdicts were positive, there were some negative takes. Gizmodo entertainment reporter Germain Lussier said: "I really wanted to like it but I did not.
"A few solid scenes capture the spirit of the game but mostly it's an overly goofy, bare-bones plot, filled with bad jokes and worse song choices. It looks great but I was more bored and annoyed than entertained."
Originally set to release on April 7, The Super Mario Bros Movie release date has now been moved forward to April 5 in "the US and in more than 60 markets around the world", including the UK.
The movie stars Chris Pratt as Mario, Charlie Day as Luigi, Seth Rogen as Donkey Kong, Anya Taylor-Joy as Peach, Jack Black as Bowser and Keegan-Michael Key as Toad.
Related Products
Super Mario Odyssey
Other Products
Some external links on this page are affiliate links, if you click on our affiliate links and make a purchase we might receive a commission.