The first new Fatal Fury in 23 years has been announced
SNK has revealed the first artwork from the new fighting game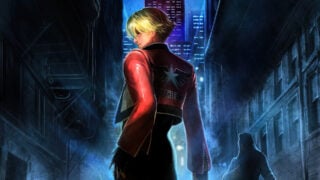 SNK has officially announced that a new Fatal Fury game is in development.
The Fatal Fury series, which stars Terry Bogard as the lead protagonist, hasn't seen a new entry in 23 years.
During the Evo 2022 tournament this weekend, however, SNK played a teaser trailer which showed a piece of art from a new Fatal Fury.
A message in the teaser video says: "The city of legend still breathes. Hungry Wolves back on the prowl. A new destiny hidden in darkness.  New Fatal Fury / Garou greenlit."
The last Fatal Fury game was Garou: Mark of the Wolves (known as Fatal Fury: Mark of the Wolves on Dreamcast), which was released in 1999.
Although there hasn't been a new entry since then, many of the characters from the Fatal Fury series including Terry Bogard, Joe Higashi and Mai Shiranui have appeared in other fighting games, most notably the King of Fighters series.
While the teaser doesn't give much away, it does reveal that the artwork was created by Aki Senno, who's better known by her pen name Tonko.
Tonko is an SNK illustrator who's best known for creating the character designs and illustrations for Garou: Mark of the Wolves, meaning fans will at least be reassured that the new game's art style will likely be authentic.
Fatal Fury protagonist Terry Bogard's last major appearance was in 2019, when he appeared as one of the DLC fighters in Super Smash Bros Ultimate.
Bogard was the fourth 4th Super Smash Bros. Ultimate DLC character, and players who bought him not only received Bogard but also a King of Fighters stadium and 50 music tracks from a selection of SNK titles.