The first free Dying Light 2 DLC is now available
Techland has said it plans to support the game with new content for at least five years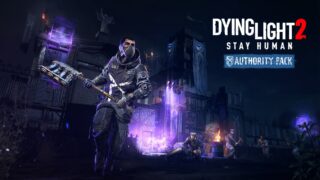 Techland has released the first free Dying Light 2 DLC.
The Authority Pack DLC, which is shown off in the trailer below, includes a new gear set and its release is split into three parts.
The first part, which is available now, includes a jacket, cargo pants and sneakers.
Part two will include new headgear, bracers and gloves, while part three will introduce a meaty new weapon.
UPDATE 16/02/22: Techland has released the second part of Dying Light 2's Authority Pack DLC.
Dying Light 2 - Authority Pack Free DLC Trailer
ORIGINAL STORY CONTINUES: Techland intends to support the open-world zombie sequel with at least five years of post-launch content.
"We guarantee to expand the world of Dying Light 2 Stay Human for at least 5 years post launch with new stories, locations, in-game events and all the fun stuff you love!" it said in January.
Following several lengthy delays, Dying Light 2 was released on February 4 for PC, PS4, PS5, Xbox One and Xbox Series X/S.
The game enjoyed a very strong Steam launch, reaching a peak of 274,983 concurrent players during its first week of availability.
Techland released Dying Light PC and console patches last week designed to address issues including co-op disconnects, crashes and story progression blocks.
In mid-January, Dying Light 2's Switch release was pushed back significantly, with Techland now planning to deliver the game within six months of the other versions.