The first footage of PES's F2P successor 'eFootball' is receiving heavy criticism
Some PES fans are unhappy with how the series' successor is looking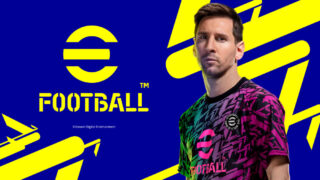 Newly leaked footage of Pro Evolution Soccer's successor eFootball has emerged, and the initial fan response isn't entirely positive.
An 11-minute video by Chinese YouTube channel Great Game has received numerous negative comments, both on the YouTube listing itself and on social media.
The video shows Manchester United and Arsenal playing a friendly match, and has been criticised for a number of things, including strange collision animations, ball physics and the new circular player icon.
However, it's not clear whether the footage – which was captured via a camera pointing at a television – was ever intended to be published. The build shown is also likely unfinished.
"They say it's a whole new game, but these are the exact same cutscenes we've had since PES 2014?" said one YouTube comment.
"Sigh. It all looked 'okay' until I saw the grass which looks horrifying for being the most important graphic in a football game," added another. Hating the circular cursor so much. As for what matters (gameplay), the ball physics seem a little weird but I'd have to play it myself.
"First touch is all over the place. The animations seem like… a step back from PES 2018? I honestly will have to play it myself but so far: big meh."
The reaction was negative on social media too. PES fan Gari Clark stated: "Leaked footage of #eFootball or not, this is an absolute mess. Final nail in the coffin. Skating players, awful ball physics, speed off-the-chain + poor graphically. This is a mobile game at heart.
"I'm actually angry watching this mess of a 'Gen 5' game. This is actually offensive to see a game with such an incredible history being thrown out in favour of a cash-grab for the mobile/casual market."
PES modder Durandil PES posted a lengthy Twitter thread breaking down a number of elements of the footage, pointing out numerous frame rate drops, strange collision animations and crowd animation that seems to move extremely choppy at times.
Some commenters on the YouTube video suggested that the footage was perhaps showing the PS4 version of the game. However, others pointed out that the lack of loading times and the lack of transitions during goal kicks (which was reportedly a next-gen feature) suggests it's the PS5 game being shown.
The free-to-play successor to the Pro Evolution Soccer series will be released on September 30, and will initially only have the option to play friendly matches locally or online with only nine teams to choose from.
Konami conceded last month that eFootball will essentially be a demo at launch, with more features and even some gameplay mechanics such as 'sharp kicks' being added at a later date.
The game's first main update, due in the autumn, will include a number of new modes, including Creative Teams, in which players build their own squad similar to FIFA's Ultimate Team (or the myClub feature in previous PES games).
Konami says other features, such as an Edit Mode and PS5 haptic feedback and adaptive trigger support, will be coming in future updates down the line.
Formerly known as Pro Evolution Soccer and Winning Eleven, eFootball has been "completely rebuilt in Unreal Engine". Although the game will be free, Konami says that more content and game modes will be released after launch and some of these will cost money.
"As a digital-only title, Konami will regularly add new content and game modes after launch this Autumn," a statement from the publisher read in July.
"In the future, certain game modes will be sold as optional DLC, giving players the freedom to build an experience that follows their interests."
Related Products
God of War Ragnarök (PS5)
Other Products
Some external links on this page are affiliate links, if you click on our affiliate links and make a purchase we might receive a commission.