The fate of Pokémon's Team Rocket may have been revealed as the anime nears its end
Two episodes remain in Ash's story arc, which will conclude after 25 years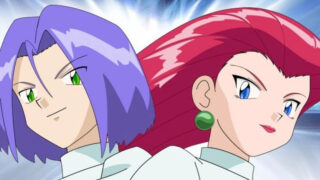 The fate of long-time Pokemon antagonists Team Rocket may have been revealed in the latest episode of the anime, as the long-running series reaches its conclusion.
Note: This article contains spoilers for the Pokémon anime.
In the most recent episode of Pokemon Journeys: The Series, Ash Ketchum's foes, who've been a thorn in the hero's side since it began airing 26 years ago, appear to blast off for the final time.
In the latest episode, Jessie, James and their talking Meowth mount one final attempt to capture Pikachu, a running gag that has been the thrust of Ash's rivalry with the team since 1997. As usual, however, they are unsuccessful.
Following this, the team is shown to have a disagreement and walk off separately, as the rest of their Pokemon look on in shock.
With only two episodes left of the series to air in Japan, fans have speculated that this marks the end for the characters who've appeared in more episodes than any other villain, and more than many protagonists across the show's nearly 1300 episodes.
Following this episode, fans took to Twitter to express their disappointment with what appears to be the final appearance of the team.
One fan wrote "With the amount of screwups the anime has I was afraid they'd ruin its finale and if this is Team Rocket's send-off then the job's halfway done already."
It is, of course, entirely possible that the team reforms in the final two episodes, and considering Team Rocket's position as fan favorites, especially in recent years, it seems unlikely that their journey in the anime would end on such a low note.
Ash Ketchum's arc as the protagonist of the Pokemon anime will come to a close after 25 years when the final episodes of the series air later this month.
A new series, which will focus on a new cast of characters exploring the Paldea region will begin later this year. A trailer for the new series, which stars Friede and his partner Pokémon, Captain Pikachu, as well as protagonists Liko and Roy, was released recently. 
Related Products
Other Products
Some external links on this page are affiliate links, if you click on our affiliate links and make a purchase we might receive a commission.