The Epic Games Store's next free titles have been announced
Railway Empire and Where the Water Tastes Like Wine will replace Into the Breach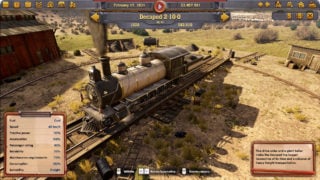 Next week's free Epic Games Store titles have been confirmed.
Tycoon sim Railway Empire and narrative adventure Where the Water Tastes Like Wine will replace Into the Breach, which is now free to download (it normally costs £10.99) until September 10 at 11am ET/8am PT/4pm BST.
The PC version of Into the Breach, which originally released in February 2018 (ahead of a Nintendo Switch version that August), has a Metascore of 90 on review aggregation site Metacritic, based on 56 reviews.
The Epic Games Store's free games promotion, which launched alongside the storefront in December 2018, will run throughout 2020.
A Total War Saga: Troy released exclusively via the Epic Games Store in August and was free to download for its first 24 hours, during which time the offer was claimed by over 7.5 million players, according to publisher Sega.
The Epic Games Store recently added mod support and began rolling out its achievements system.
According to the Epic Games Store development roadmap, features "up next" include the introduction of an algorithmically driven trending category, and bundles that dynamically adjust their pricing based on whether players already own parts of the bundle.
Future developments include a gifting feature, an Android Store, and support for additional currencies and payment methods.
It was recently announced that the PC version of Hitman 3 will be an Epic Games Store exclusive for one year, while the PC version of Crysis Remastered will also be exclusive to Epic's storefront.