The Epic Games Store's next free title has been revealed
Galactic Civilizations III will replace Star Wars Battlefront II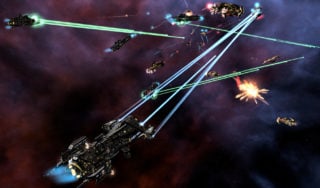 Next week's free Epic Games Store title has been revealed.
Stardock Entertainment's interstellar strategy game Galactic Civilizations III will be free to download from January 21-28.
It will replace Dice's Star Wars Battlefront II: Celebration Edition, which normally costs £34.99 but is currently free to download until January 21.
Celebration Edition features the complete collection of customisation content available through in-game purchases, including the most recent items inspired by The Rise of Skywalker.
It was announced this week that Lucasfilm Games has ended its Star Wars exclusivity deal with Electronic Arts by partnering with Ubisoft on a new open-world game, although EA said it will continue to make Star Wars games "for years to come".
The Epic Games Store's free games promotion has seen it give away titles for nothing on a weekly basis since the storefront launched in December 2018. It also gave away 15 free games over the Christmas period, with one title offered every day from December 17-31.
Earlier this month Epic Games announced that it had acquired the Cary Towne Center shopping mall in North Carolina, which it will transform into its new headquarters, for $95 million.
It also announced the acquisition of Rad Game Tools, the game development tools maker behind the Bink video codec, Oodle data compression and Telemetry performance visualisation system.