The Epic Games Store's next free title has been revealed
Wargame: Red Dragon will replace Blair Witch and Ghostbusters Remastered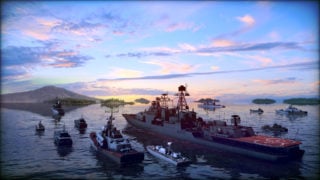 Next week's free Epic Games Store title has been announced.
Wargame: Red Dragon will replace Blair Witch and Ghostbusters: The Video Game Remastered, which are currently free to download.
Blair Witch is usually priced at £23.99 on the Epic Games Store, while Layers of Fear 2 normally costs £19.99.
Developed and published by Eugen Systems, Wargame: Red Dragon is a real-time strategy game which sees players commanding the resources of 17 military nations engaged in a large-scale conflict where Western forces face off against the Communist bloc. It has a Metascore of 78 based on 19 reviews.
The Epic Games Store's free games promotion, which launched alongside the storefront in December 2018, will run throughout 2020.
Epic CEO Tim Sweeney claimed earlier this year that the promotion has caused sales to increase for developers who participate.
The Epic Games Store is currently running a Halloween sale featuring discounts of up to 75% until November 5.