The Epic Games Store's next free games have been revealed
Hitman and Shadowrun Collection will replace Enter the Gungeon and God's Trigger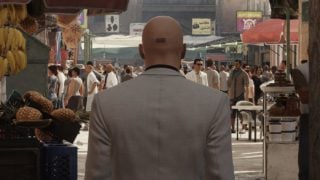 Hitman and Shadowrun Collection will be next week's free Epic Games Store titles.
They'll replace Enter the Gungeon (normally £10.99) and God's Trigger (normally £11.99), which are now free to download until August 27 at 11am ET/8am PT/4pm BST.
The Epic Games Store's free games promotion, which launched alongside the storefront in December 2018, will run throughout 2020.
A Total War Saga: Troy released exclusively via the Epic Games Store last week and was free to download for its first 24 hours, during which time the offer was claimed by over 7.5 million players, according to publisher Sega.
The PC version of Hitman 3 will be an Epic Games Store exclusive for one year, IO Interactive announced on Thursday.
"As an independent studio, our partnership with Epic has given us the freedom to create Hitman 3 exactly as we imagined and self-publish the game to our players directly," the company said.
"It's also important to us that we honour the time our existing PC players have spent in our previous games. With that in mind, we are pleased to confirm that PC players will be able to carryover their current progression and unlocks from Hitman 2 on Steam into Hitman 3 on Epic Games Store.
"It will also be possible for PC players to import locations from the previous two games into Hitman 3 on Epic Games Store," IO added.