The Epic Games Store's next free games have been announced
Alto Collection and Remnant: From the Ashes are currently free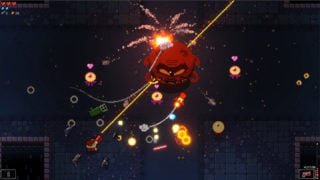 Enter the Gungeon and God's Trigger will be next week's free Epic Games Store titles.
The PC versions of the top-down shooters have scores of 84 and 75 respectively on review aggregation site Metacritic.
They'll replace current free games Alto Collection (normally £7.99) and Remnant: From the Ashes (normally £30.99) on August 20 at 11am ET/8am PT/4pm BST.
The Alto Collection, which includes endless snowboarder Alto's Adventure and its endless sandboarding sequel Alto's Odyssey, is developed by Team Alto and published by Snowman. It also released for PS4 and Xbox One today, with a Switch version set to follow "soon".
Remnant: From the Ashes is a post-apocalyptic survival action shooter from developer Gunfire Games and publisher Perfect World Entertainment.
A Total War Saga: Troy released exclusively via the Epic Games Store at 6am PT/9am ET/2pm BST today and is free to download for its first 24 hours of availability.
The Epic Games Store's free games promotion, which launched alongside the storefront in December 2018, will run throughout 2020.
Epic CEO Tim Sweeney recently claimed it has caused sales to increase for developers who participate in the scheme.