The Epic Games Store's latest free title has been announced
Galactic Civilizations III will replace Gods Will Fall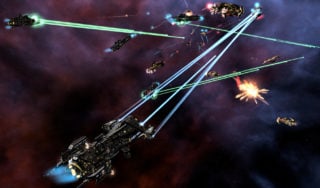 The next free Epic Games Store title has been confirmed.
Stardock Entertainment's Galactic Civilizations III will replace Gods Will Fall, which is now free to download until January 13.
Strategy title Galactic Civilizations III will then be free to claim until January 20.
Galactic Civilizations III - Gameplay Trailer
The Epic Games Store gave away over 15 games in the second half of last month, with titles offered free every day from December 16-30.
They included Control, Shenmue 3, Neon Abyss, Remnant: From the Ashes, The Vanishing of Ethan Carter, Loop Hero, Second Extinction, Mutant Year Zero: Road to Eden, Vampyr, Pathfinder: Kingmaker, Prey and the Tomb Raider reboot trilogy.
In an article published on VGC last February, Ampere analyst Louise Shorthouse questioned whether Epic's game giveaways were sustainable in the long term.
"The number of free games increased by 41% [in 2020] – reflecting the increase in customers – but their value grew by over 65%," she wrote.
"Essentially, Epic is giving away more expensive games, probably in an attempt to sustain momentum and continue to draw in a broader audience, and it seems to be working. The number of free games claimed in 2020 increased almost threefold year-on-year, from 200 million to 749 million.
"But even for Epic Games, a company still basking in the glow of Fortnite's vast profits, there will be a limit to how much it is willing and able to spend on free content. "