The End is Nigh and Abzu are now free on the Epic Games store
They'll be replaced by Conarium on September 12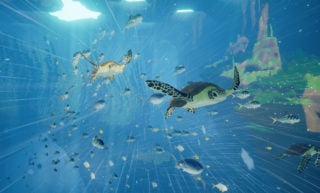 The End is Nigh and Abzu are now free to download from the Epic Games store.
The former, a platformer from developers Edmund McMillen and Tyler Glaiel, has a score of 84 on review aggregation site Metacritic based on 15 reviews. It normally costs £11.99.
Abzu is an underwater adventure from Giant Squid, a studio led by the art director of Flower and Journey. It has a Metascore of 83 based on 19 reviews and is normally priced at £15.99.
Both titles will be free to download until September 12, when they'll be replaced by Zoetrope Interactive's "chilling Lovecraftian game" Conarium, "which follows a gripping story involving four scientists and their endeavor to challenge what we normally consider to be the 'absolute' limits of nature".
Epic originally launched a bi-monthly free game offer alongside its PC storefront in December 2018 but said in mid-May that it was increasing the frequency of the offer to one free game per week until the end of 2019.
Titles offered for free have included Alan Wake, For Honor, Limbo, This War of Mine, Overcooked, World of Goo, Transistor, The Witness, Hyper Light Drifter, Fez, Inside and Celeste.
After missing targeted launch dates for several new features, Epic recently removed anticipated delivery times from the Epic Games store roadmap, which provides a public overview of what's being worked on or planned.
The Epic Games store's August update introduced cloud saves for more titles and Humble Bundle keyless integration, while giving product pages a facelift.