The Day Before has been delayed 8 months over alleged trademark issues
The heavily wishlisted MMO is now planned to release in November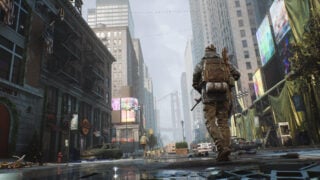 The Day Before, an upcoming MMO that is currently the second most wishlisted game on Steam, has been delayed by eight months.
Developer Fntastic posted a statement on Twitter today, claiming: "Steam blocked our game page at the request of a private individual, because of the name The Day Before."
Fntastic says it wasn't aware of "the existence of claims" until January 19, when it received a complaint from the individual.
This statement came hours after the studio said The Day Before's Steam page had disappeared due to a "minor technical difficulty."
The statement goes on to claim that when The Day Before was announced in 2021, the title's trademark was still available, and was then secured by the private individual before Fnatic could trademark it.
According to the US Patent and Trading Office document Fntastic links to in its statement, the application to register The Day Before as a trademark was filed in June 2021, five months after the game's announcement.
Fntastic's statement adds that due to the ongoing issue a "lengthy gameplay video" that has been promised for some time has also been delayed, and that the game – which was planned for release on March 1 – will now be released on November 10, 2023.
The Day Before is an "open-world MMO survival set in a deadly, post-pandemic America overrun by flesh-hungry infected and survivors killing each other for food," according to the currently inactive Steam page.
Fntastic says the game has been in development for over four years, though the studio attracted criticism when it emerged that the game is being largely developed by volunteers.
It's also been alleged by many following the game that "ripped assets" from several other titles can be spotted in the short gameplay clips the team has posted.