The Cyberpunk 2077 console will be the last Xbox One X limited edition console
45,000 units will be available for June launch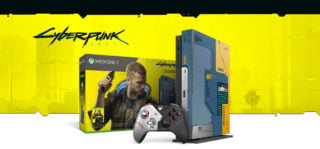 Microsoft has said the upcoming Cyberpunk 2077-themed Xbox One X console will be the last special edition version of the console.
45,000 units will be available when the system launches in selected markets this June.
Announced on Friday, the console features custom panels, a custom controller, LED lights and glow-in-the-dark artwork, a digital copy of the game when it releases in September, plus "other surprises" set to be revealed soon.
Several more Cyberpunk-themed Xbox accessories (pictured below) were announced on Monday, including a controller charging stand, hard drives and headphones.
Following the Cyberpunk console's announcement, Niko Partners analyst Daniel Ahmad speculated that Microsoft could be set to phase out Xbox One X ahead of the launch of its next-gen console, Xbox Series X, during the 2020 holiday season.
Despite a recent switch to remote working, CD Projekt is on track to hit Cyberpunk 2077's September 2020 release date, according to president Adam Kiciński.
"Our goals haven't changed; first and foremost, we intend to release Cyberpunk 2077 in September," he said earlier this month. "We feel motivated and have the necessary tools at our disposal to meet this goal".