The BBC's first ever 'gaming prom' is now available to watch
The orchestral concert featured music from Kingdom Hearts and more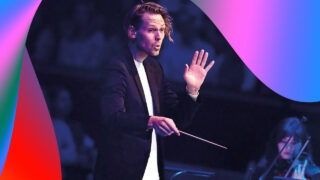 The BBC held its first ever video game music concert as part of its iconic Proms this week.
The concert, which ran for just under 2 hours, is now available to view on the BBC's iPlayer and will be available for streaming for the next 12 months. Currently the concert is only available to view in the UK, but users elsewhere can try a VPN.
The Prom is also available to listen to on the BBC Sounds app for up to 30 days after the performance.
The Proms, which were founded in 1895, are a season of classical music concerts held every summer, mainly at the Royal Albert Hall in London.
The 'Gaming Prom' was performed by the Royal Philharmonic Orchestra and conducted by Robert Ames (pictured above), who has previously conducted Proms on 'Pioneers of Sound' and sci-fi film music.
The concert featured music from Final Fantasy, Kingdom Hearts, Dear Esther, Shadow of the Colossus, Battlefield 2042 and more.
"Fantastic worlds, epic adventures, complex characters and huge moral choices – the universe of computer gaming is a natural match for orchestral music, and in the 21st century games have created a huge and passionate global audience for some of the most vivid, ambitious and inventive music currently being written for symphony orchestra," reads the BBC's description of the event.
"In this first ever Gaming Prom, Robert Ames – best-known at the Proms for his explorations of sci-fi and electroacoustic music – takes an electronically expanded Royal Philharmonic Orchestra on an odyssey from the classic console titles of the 1980s, through Jessica Curry's haunted soundscapes to the European concert premiere of music from Hildur Guðnadóttir's and Sam Slater's score for Battlefield 2042."