The Assassin's Creed franchise just had its best sales year ever
Annual revenue was up 50% compared with the prior record set in 2012-13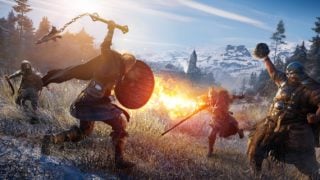 The Assassin's Creed franchise recorded its strongest sales year to date in the 12 months ended March 31, 2021, according to Ubisoft.
The publisher said on Tuesday that total yearly revenue for the series was up 50% versus the prior record financial year in 2012-13 (the 12-month period ended in March 2013).
Ubisoft reported "the strongest quarter" in its history in February 2021, driven in part by record launch sales for Assassin's Creed Valhalla.
---
Assassin's Creed Valhalla Guides:
---
The company said in November 2020 that the 12th major instalment in the franchise sold more units in its first week than any other entry in the series, which had at the time sold over 155 million units since debuting in 2007.
Assassin's Creed 3 still holds the record in terms of franchise unit sales during a launch quarter. Released on October 30, 2012 (Valhalla launched later in the year on November 10, 2020), Assassin's Creed 3 had shipped over 12 million units by the end of December.
"On the Assassin's Creed franchise in terms of unit count at the end of December, Assassin's Creed 3 is still the biggest launch but in value, clearly, Assassin's Creed Valhalla is the biggest launch ever for the franchise," Ubisoft's chief financial officer Frederick Duguet said in February.
Speaking during Ubisoft's full-year earnings call on Tuesday, CEO Yves Guillemot said "Valhalla did a great job" but noted that the franchise's "back catalogue was also extremely powerful" and a big contributor to the record year for the series, thanks in part to lots of content released for Assassin's Creed Odyssey.
Duguet also commented: "What we see with Assassin's Creed is that we have a fantastic recipe and that's why we decided to expand the post-launch programme to make it the biggest, longest, strongest that we have ever had on the franchise, so we are really going for a great transformation and building on the RPG recipe, and on strong playtime, so that's what we see for the franchise as a focus in the short-term, notably in fiscal 22 and beyond, but also we are building a very strong rung-up for the next five years for that brand."
On Tuesday Ubisoft released a new trailer (above) for Assassin's Creed Valhalla's first major expansion, Wrath of the Druids, which is scheduled to launch on May 13 following a two-week delay.
A second Assassin's Creed Valhalla story expansion, The Siege of Paris, will retell the Viking invasion of France in 845 AD when it arrives in the summer of 2021.
Ubisoft recently confirmed that future Assassin's Creed Valhalla title updates will be released less frequently in a bid to improve their quality.
The company said it was moving from a four-week to a five-week title update release cycle "to allow for more thorough testing and refinement" following the release of some disappointing patches.
Related Products
Other Products
Some external links on this page are affiliate links, if you click on our affiliate links and make a purchase we might receive a commission.