Thatgamecompany's Sky: Children of the Light is coming to Switch in June
The game will be free-to-start and offer cross-play support for console and mobile players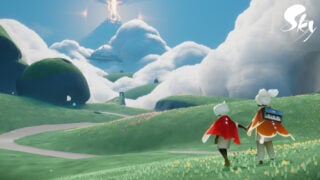 Thatgamecompany has announced that the Switch version of Sky: Children of the Light will be released globally in June.
The first game from the studio since 2012's Journey, Sky: Children of the Light debuted on iOS in July 2019 before launching for Android in April 2020.
The "social adventure game" will be free-to-start on Switch and provide cross-play capabilities for players between mobile and console.
Sky: Children of the Light features multiple "dreamlike realms" to explore in which, like Journey, players can encounter and socialise with each other.
Focusing "deeply on compassion, friendship, and altruism within the game and its communities", the premise of the title is to spread hope through a desolate kingdom in order "to return fallen Stars to their constellations".
The game has been nominated for numerous awards. It was named Apple's iPhone Game of the Year and SXSW's Mobile Game of the Year in 2019, when it also took home the Audience Award at the Game Developers Choice Awards.
Earlier this month, Thatgamecompany released a new narrative arc for the game titled Season of Assembly.
The Santa Monica, California-based studio, which also developed Flow and Flower, has previously said it plans to bring Sky: Children of the Light to PC, Mac and consoles, suggesting PlayStation and Xbox releases could also be on the cards.
"One of our goals in Sky is to create a shared emotional journey of highs and lows that a group of companions can experience together," narrative designer and concept artist Tom Zhao said n 2019.
Sky's predecessor, the celebrated indie adventure game Journey, released for PC in June 2019.