Tetris 99 dev says it's bringing Grand Master to consoles, with a sequel possible
Developer's vice president says the Japan-only expert Tetris series is returning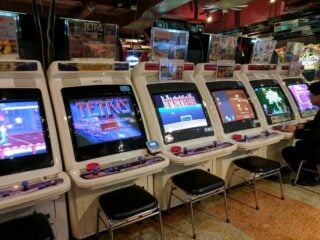 Tetris: The Grand Master, the expert-focused Tetris series only released in Japan, may be coming to home consoles.
Ichiro Mihara, the vice-president of Arika – which previously developed The Grand Master and more recently Tetris 99 for Nintendo – posted a tweet today stating that the company planned to make an announcement regarding a home console port of the game, but that it had been delayed by external factors.
He also declared that there were plans to make a new fourth game in the series, but this depended on the success of the home ports.
"The announcement we had planned for today regarding the TGM series for home use can not yet be released, due to circumstances outside of Arika," Mihara said.
"We are also considering a new TGM game, but the licensors have asked us to make it conditional on the 'success' of the game, which is very fair, so we will do that."
In a follow-up tweet he clarified: "In other words, if the TGM series comes out for home use and it's a big hit, it'll be accepted as one of the 'fields' in Tetris."
It's not clear what Mihara means by 'fields', though it appears to be suggesting that if the home port of The Grand Master is a success, The Tetris Company – which licenses the brand to third parties – will agree to allow it to continue as a series.
It's also not clear which of the three games in the Tetris: The Grand Master series is planned for home release, or whether it's actually a compilation of the three titles released to date.
Tetris: The Grand Master is notorious for being one of the most difficult Tetris games, with up to 999 levels of play. It was the first game in the series to introduce 20G gravity, which means when players hit a certain level their blocks instantly appear at the bottom of the screen and can only be slid for half a second before they lock in place.
The series is also known for its grading system, where players are given a rank at the end going from rank 9 all the way up to Grand Master.
The original Tetris: The Grand Master was released in Japanese arcades in 1998, with sequels released in 2000 and 2005.
A spin-off version called Tetris: The Grand Master Ace was released as a launch game for the Xbox 360 in Japan, but because of the Xbox 360's region locking and the extremely low sales of Xbox 360 consoles in the region it had only sold 4,000 copies after its first 10 weeks.
Because the series has never been released outside of Japan, Tetris fans in the west have had to resort to emulation to play the game. However, Mihara has publicly criticised emulation in the past, tweeting in 2014 that "winners do not use emulators and never clone".