Tenet director Christopher Nolan is 'definitely interested' in adapting his films into games
But he says any potential adaptation would need to be "great in its own right"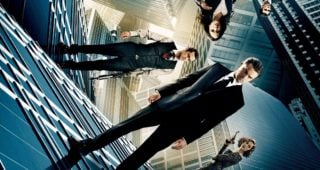 Film director Christopher Nolan has said he's interested in adapting his work into a video game.
Nolan's filmography includes the Dark Knight trilogy, Memento, Insomnia, The Prestige, Inception, Interstellar, Dunkirk and most recently Tenet.
During a recent interview with Game Awards producer Geoff Keighley, Nolan was asked if he'd ever want one of his films to be adapted into a video game and if so, which one.
"We've looked at some of them over the years," he responded, noting that a fair amount of work went into an adaptation of 2010's Inception, although it never saw the light of day.
"We went fairly far down the road with it but of course what you realise is, making films is complicated and takes a long time. Making games is even more complicated and takes even longer.
"The way the video game industry works… you don't want to just be doing a licensed game, you don't want to just be tying in with something and using the brand established by the film," he continued.
"Same way actually, when you build a video game adaptation to film from a video game, you don't want it to just draft off the brand, you want it to be something great in its own right."
Nolan said his all-consuming dedication to filmmaking has been a barrier to him working on a game project, but he retains an interest in the possibility.
"I think my time and energy, I've just wound up devoting it all to film and just seeing how difficult that is, it's not something you'd ever take on lightly but it's definitely something I'm interested in, it's an amazing world."
Nolan presented the Game of the Year award at The Game Awards 2020 earlier this month. The event also featured appearances from Hollywood stars Keanu Reeves, Gal Gadot, Tom Holland, Brie Larson and John David Washington.